Vivid green for outdoor use
Do you want to bring the beauty of nature to the front of your business? With Green Habitat vertical greenery, you can dress it up with the colors and shapes of a garden, giving it a stylish yet profoundly "green" feel: in fact, you can contribute directly to improving air quality in the city, thanks to the purifying power of plants.
Green Habitat's outdoor living greenery is a modular system consisting of panels covered with a synthetic lawn (fully recyclable) on which there are special "pockets" in which live plants are placed: easy to install, maintain and, if desired, relocate.
This veritable vertical garden is based on the innovative patented Wall Green Habitat Hydro system, which represents a revolution in the world of sustainable building: applied on the masonry wall, it contributes in fact to improving its thermal performance, creating a ventilated facade and radically improving the energy efficiency of the building.
ENEA and Green Habitat Energy Efficiency: Rai interview
We were interviewed by Massimiliano Ossini about the benefits of vertical greenery and especially the energy efficiency of our products. Joining us is Dr. Arianna Latini of the Energy Efficiency Unit of ENEA, the national agency for new technologies, energy and sustainable economic development.
Benefits of Vertical Green

SOUNDPROOFING
Noise pollution is a major stressor in the workplace and certainly not conducive to concentration in enclosed spaces. Green Habitat's carefully designed and patented products offer wall and ceiling insulation that can absorb sound naturally and greatly reduce sound propagation. Indoor environments are quieter and suitable for concentration in normal work and daily activities.

BIOPHILIC DESIGN & POSITIVE EMOTIONS
Biophilic green furniture is the turning point in the world of design and enhances the biophilia effect, that is, the natural and spontaneous attraction that humans develop toward nature that generates multiple feelings of well-being and fulfillment. These feelings create a virtuous circle and, in retail settings, increase store revenues. In fact, shopping in a green and sustainable environment increases positive emotions and also consequently the perceived value of the product displayed. Numerous studies show that increased sales can reach up to 40 percent in all those stores that adopt green solutions.

LESS STRESS
Spending your time in an aesthetically comfortable and healthy environment is good for your mood and makes you work better. Choosing to furnish with green and sustainable solutions reduces workers' sick days by 20 percent, helping to significantly reduce the stress and fatigue experienced in work spaces. Employees are healthier, more productive and creative, and their performance increases by 10%. Plants are also able to absorb and neutralize all those pollutants that come from furniture objects and electromagnetic waves released by electronic devices.

AIR PURIFICATION
The air we breathe in the environments where we spend most of our time is very important and we cannot neglect it. Ninety percent of the day takes place inside homes, stores or offices, and we breathe more than 11,000 liters of air every day. Green Habitat solutions allow constant air sanitization through purifiers built into green walls and avoid all those annoyances caused by indoor space pollution such as: headaches, dryness of the respiratory tract, nausea and weakness.

HUMIDITY REGULATION
Keeping an eye on the humidity level is essential in order to be assured that you are in a healthy environment. If it is excessive, there is a good chance of a proliferation of bacteria, and if the climate is too dry, the mucous membranes of the respiratory tract dry out and it is easier to be susceptible to developing allergies. Green walls are a perfect and natural indicator to understand the level of moisture in the environment, just touch the wall and see if the stabilized green is still soft or dry. The optimal level of humidity to maintain for one's health is between 40% and 60%.

PROPERTY ENHANCEMENT AND URBAN REDEVELOPMENT
The building that adopts solutions designed by Green Habitat acquires a unique value, since the benefits provided, internally and externally, are certified and long-lasting and increase the property's valuation. Green façades are aesthetically impactful and sustainable, unique in their own right, and improve the quality of the air we breathe by offering tangible urban redevelopment.

ENERGY UPGRADING
The patented Green Habitat system is specially designed for thermal insulation of walls and succeeds in improving the energy efficiency of the building with remarkable results, contributing to annual savings of many tons of fossil fuels. This kind of benefit also affects the reduction of pollution in our cities that are not conducive to a healthy and sustainable style.

REDUCTION OF CO2 EMISSIONS
A single green facade, made with the Wall Green Habitat Hydro system, can effectively absorb tons of CO2 each year, creating a pollution filter and purifying the air surrounding the building. The patented systems are able to demonstrate, through specific studies, how particulate matter concentrations are significantly decreased in just four days after installing Green Habitat green walls and how they are able to trap fine particulate matter in the air of our cities, thanks to the composition of the synthetic lawn covering underneath the living plants.
How does our system work?
Wall Green Habitat Hydro is a panel made entirely of recyclable galvanized material, which ensures the waterproofing of the construction, as well as sturdy fastening and durability over the years. The panel is covered on the surface with a synthetic lawn (also fully recyclable) on which are "pockets" into which live plants are placed.
Within each module, between the steel structure and the synthetic lawn, is placed the substrate that will allow the vegetation to grow independently over the years, formed by the overlay of double nonwoven fabric, geocomposite, made of natural plant fiber. Finally, the system includes a fully automated irrigation system.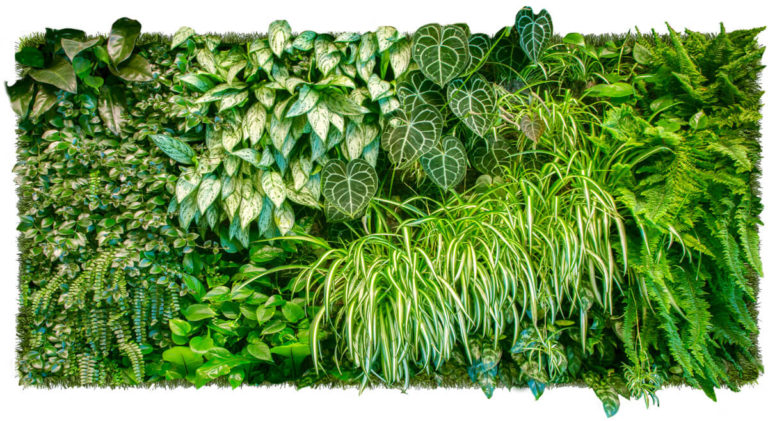 Management by modules, which can be easily detached, among other things, allows it to be relocatable at any time and to inspect any zone, plant or area of the entire green area.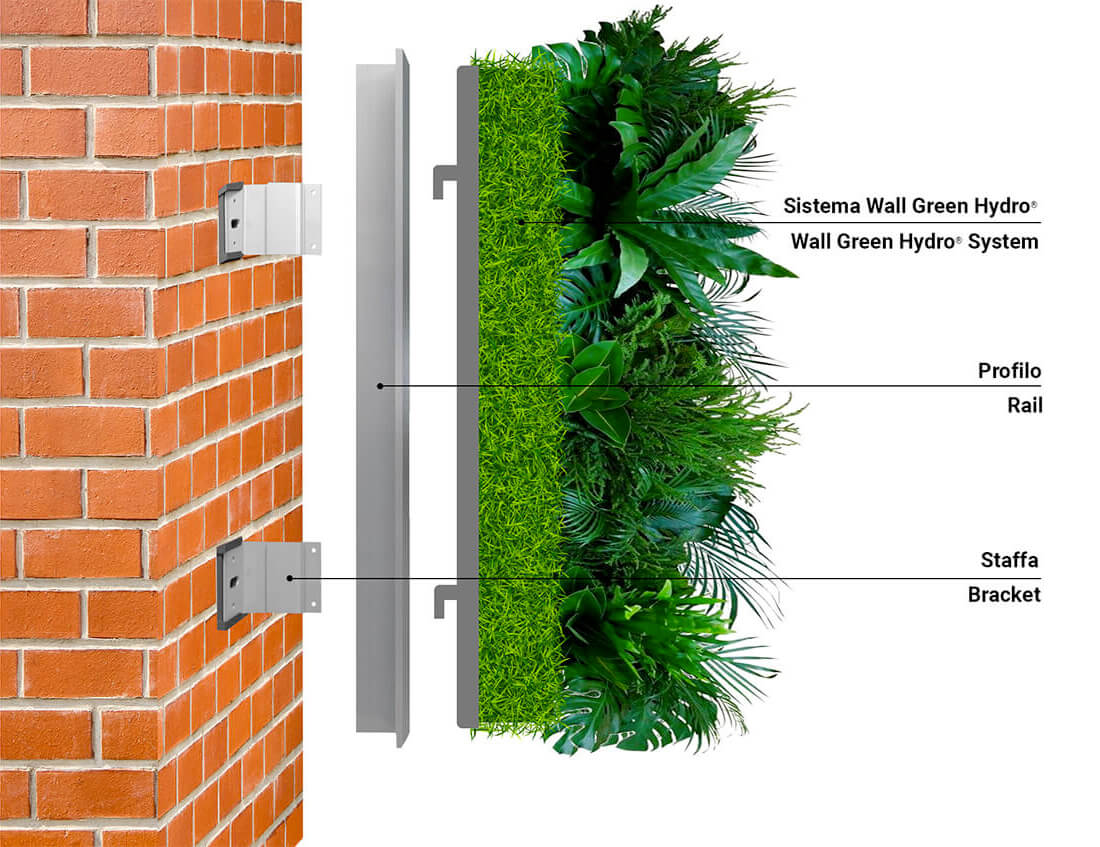 Fixing the Wall Green Habitat Hydro system is quick and intuitive, and requires no skilled labor. Its modularity, combined with the availability of various panel sizes (standard 100×50 cm, upon request 50×50 and 25×50 cm), allows even a single operator, if necessary, to independently install a large wall. The modules can be pre-vegetated and arrive ready-made at the construction site, where it will only be necessary to attach them to the uprights previously attached to the wall, thus making assembly very fast and freeing up space in a short time.
Automatic irrigation
The irrigation system is fully automated and runs concealed within the modular system, not detracting from its aesthetics. It also minimizes the need for maintenance while keeping our vertical greenery "alive" at all times.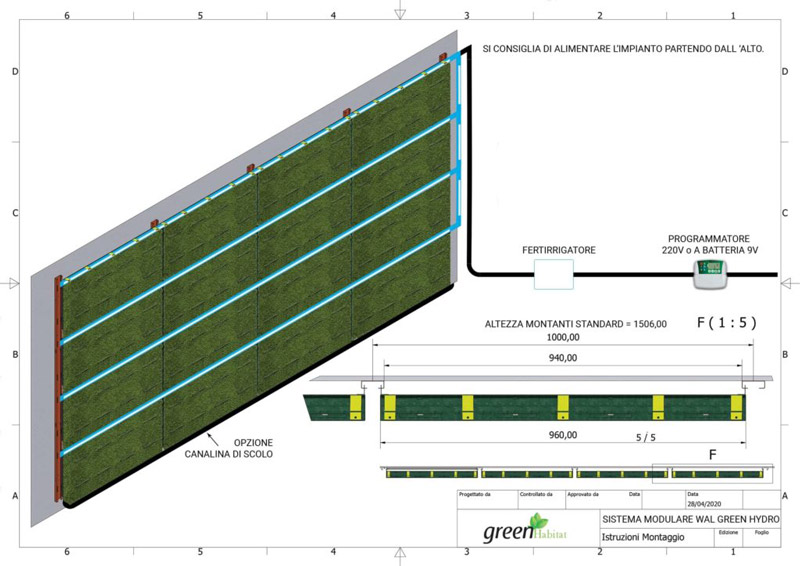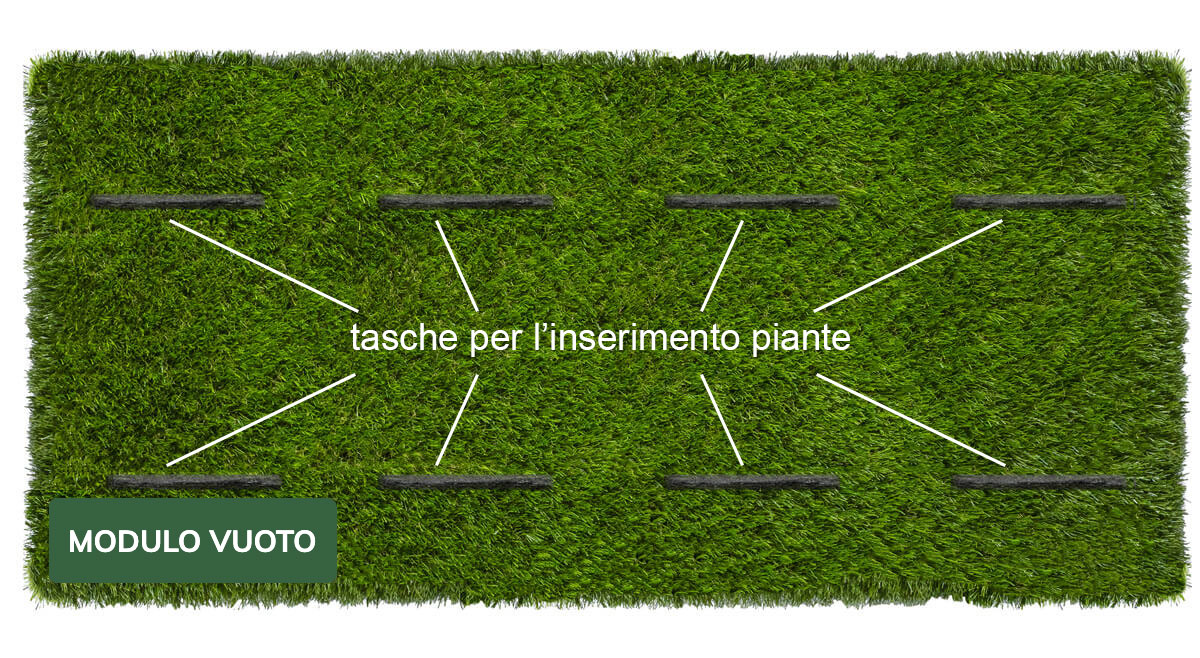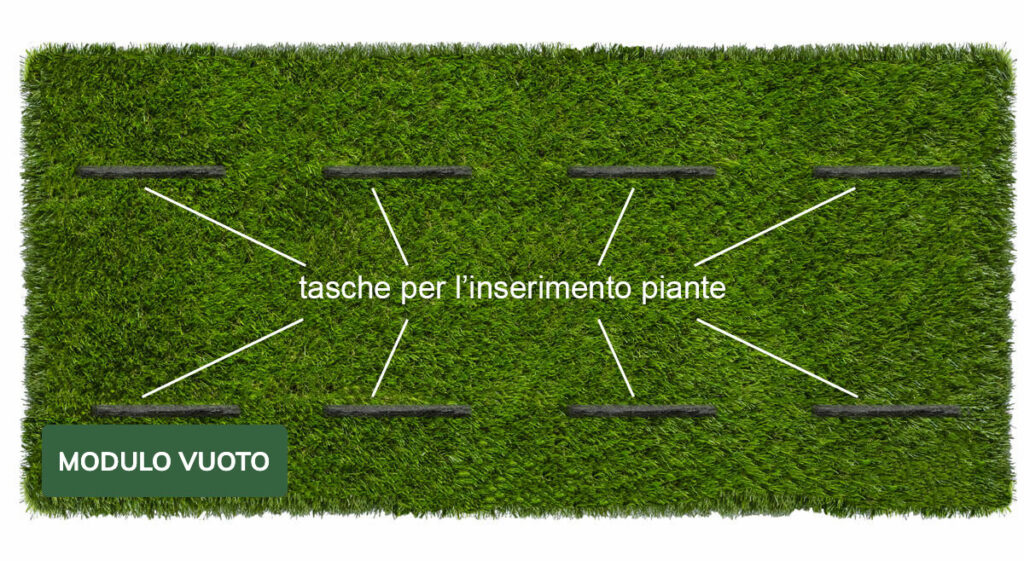 Shallow lawn: why it is important
In addition to providing the immediate ready effect and protecting the root of plants from weather and high temperatures, the composition of the lawn covering of the panels allows for more trapping of fine particulate matter in the air that is discharged to the ground through rainfall and weathering. In addition, the system is specially designed for thermal and acoustic insulation of walls, improving the energy efficiency of the building.
Contact us

If you would like information about our product range and the solutions we can implement for your business, please fill out the form.
The projects that make us most proud
How can you enhance the special power of plants? We have the solution at hand.
Nature all around us is an inexhaustible source of wealth and benefits, and you can have it in your work space without the need for maintenance or professionalized labor.
Green walls are unique and unmistakable, improving indoor environments by making them healthier and ensuring more productive office hours, with a special focus on employee well-being.
So many have already chosen Green Habitat, investing in the health of those around them and focusing on ethical and sustainable design, close to the environment and looking to the future.
Download lichen technical papers
Discover the textures of our stabilized green