Stabilized moss: install it and think no more about it
Have you ever thought of covering a wall, ceiling, or corner of your interior rooms with a coating of real moss? Can you imagine the reaction of those who will enter, faced with an element of nature dropped into a business or work context?
Yes, because Green Habitat stabilized moss is a 100% natural product, but at the same time it has characteristics that make it similar to an artificial coating: no maintenance, basically after installation, you don't need to think about it anymore!
All this is without counting the important benefits it brings to the health of those who spend most of their time in these environments and the extremely competitive price that Green Habitat is able to reserve for you thanks to the management of the entire production process.
The benefits of stabilized moss
Green Habitat stabilized greenery can help improve the comfort of work spaces and the quality of the air we breathe. How? Thanks to:

Sound absorption: stabilized moss is designed to absorb sound naturally, reducing noise that is a source of stress, poor concentration, etc. In this way, it can contribute to important improvements in work performance and quality of life.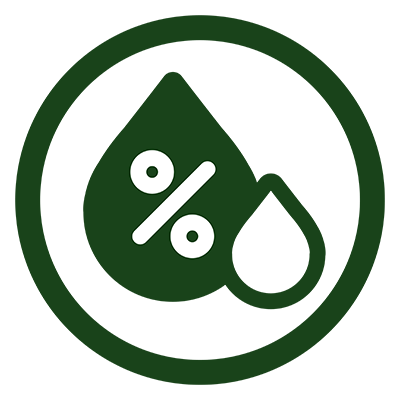 Humidity regulation: stabilized moss is able to maintain a moisture content between 40 and 60% within rooms, thus enabling the avoidance of bacterial growth (favored by excessive humidity) and at the same time preventing, conversely, excessively dry air from leading to health consequences such as dry respiratory tracts or allergies.

No water, no need for light or care such as pruning or, even, removal of dust that settles on it, as it is antistatic: in essence, zero maintenance!
Certifications and tests taken
Green Habitat stabilized moss is the only moss currently on the market that can boast of

Reaction to fire according to UNI EN 13501-1 Classification B-s2,d0

Sound absorption coefficient according to UNI EN ISO 354

Passing bacterial tests and microorganism counts
Green Habitat stabilized moss comes in convenient standard panels with dimensions of 75×75 cm. that allow for its rapid installation (two people can assemble up to 20 sq. m. in half a day), requiring no specialized labor or wall preparations; in fact, fixing is done directly with the help of simple nails or screws.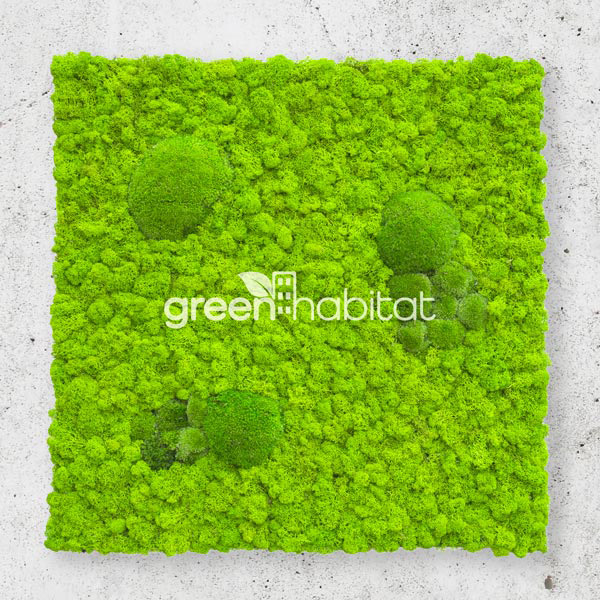 We are also able to bring any project to life with custom-made panels made with numerically controlled machines; here the panels are also numbered according to an assembly scheme that is extremely intuitive for the customer, who is then autonomous in assembly.
This modular system allows stabilized moss to be adapted to cover any wall, ceiling, corner and even to surround switches or fixtures.
See how quick and easy it is to assemble the product!
Panels are individually boxed and shipped on pallets, each of which holds approximately up to 14 sq. m. of product, ensuring very little clutter on the job site for easy assembly and handling. The panels are attached directly to the relevant wall using simple nails or screws.
Moss grows freely in northern Europe where it is harvested with full respect for nature. Green Habitat takes care of its selection and cleaning, as well as the stabilization process which replaces the sap with natural salts that allow the moss to retain its characteristics, including softness, for many years.What you get in this way is a safe and durable product, a true innovation in the world of interior biofill design.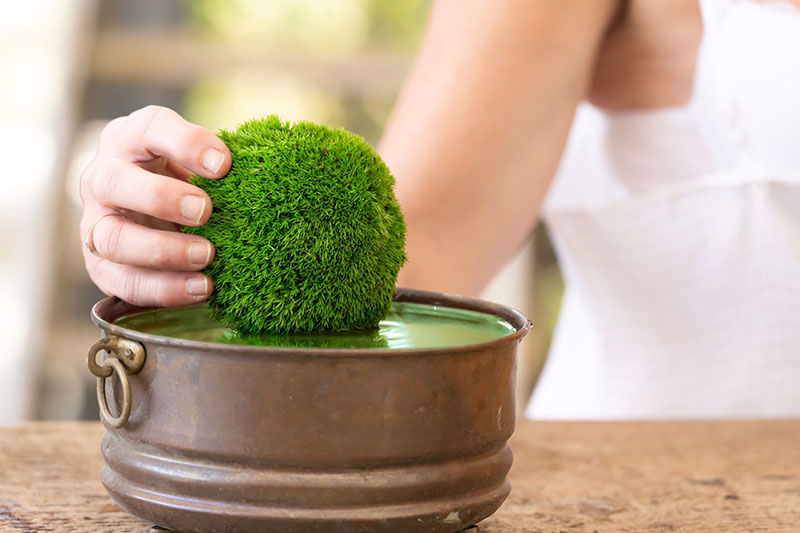 Contact us and request more information
The projects that make us most proud
How can you enhance the special power of plants? We have the solution at hand.
Nature all around us is an inexhaustible source of wealth and benefits, and you can have it in your work space without the need for maintenance or professionalized labor.
Green walls are unique and unmistakable, improving indoor environments by making them healthier and ensuring more productive office hours, with a special focus on employee well-being.
So many have already chosen Green Habitat, investing in the health of those around them and focusing on ethical and sustainable design, close to the environment and looking to the future.
Download stabilized moss technical papers
Discover the textures of our stabilized green