The most important asset for life.
Our body constantly needs air, which is our primary source of well-being. Completely automatically and unconsciously, we breathe in more than 11,000 liters of air every day. We can go without eating for 2 weeks, without drinking for a few days, but without breathing we can live only a few minutes.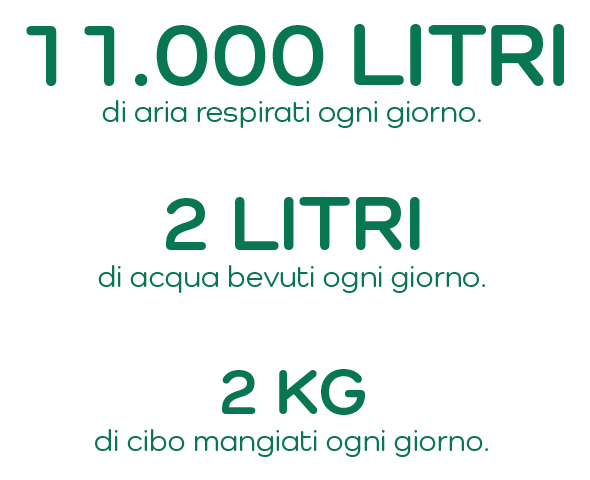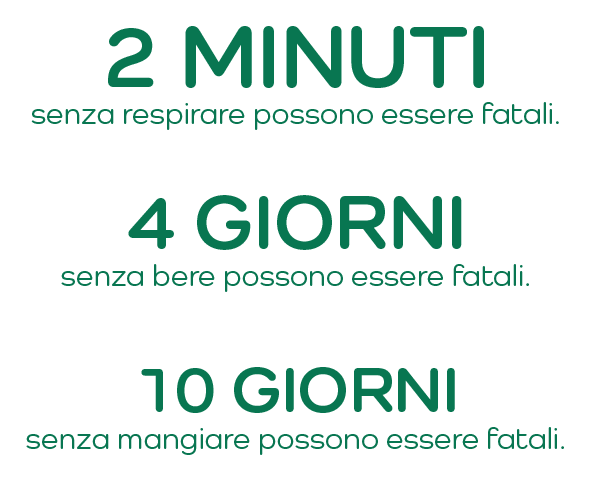 Your health depends on the air you breathe!
What does poor air quality entail?
Poor indoor air quality where you spend most of your day can be especially harmful to those vulnerable groups such as children, the elderly, or those suffering from cardiovascular and chronic respiratory diseases such as asthma. But also minor annoyances such as headaches, dryness of the respiratory tract, nausea and weakness.
GREEN HABITAT'S SOLUTION.
Green Habitat patents enable the constant sanitization of the air thanks in part to purifiers integrated into the green walls.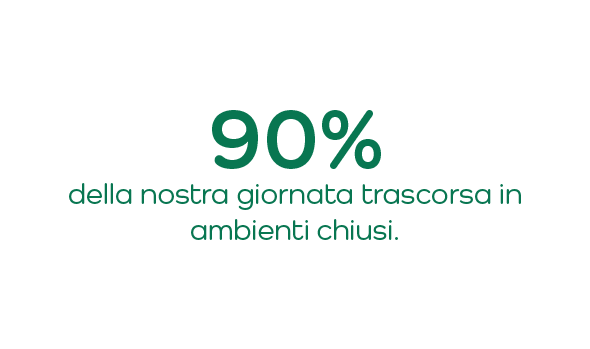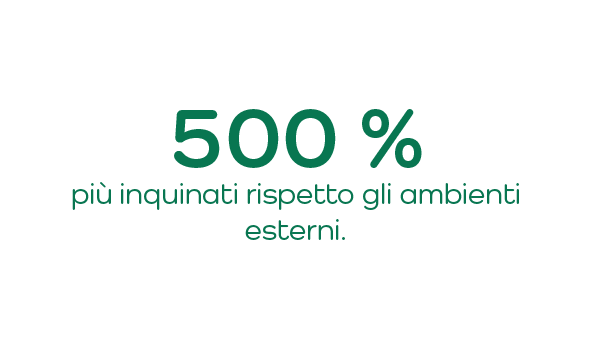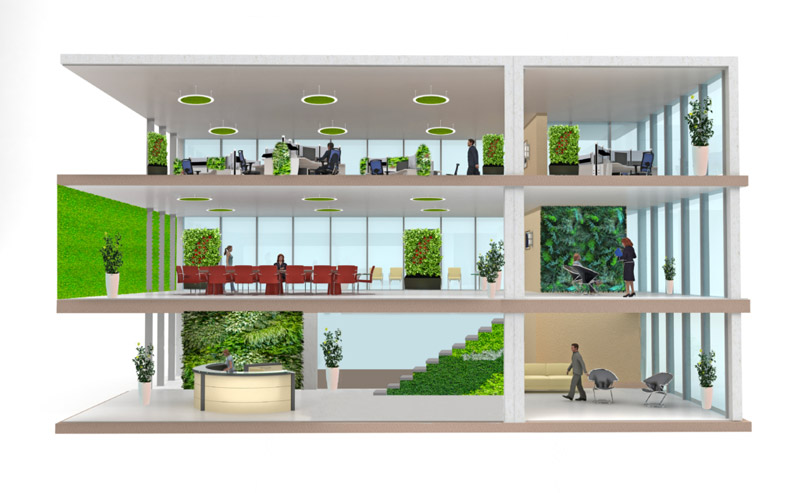 Against particulate matter.
What are particulate matter?
The term fine dust refers to all aero-suspended particles with a size smaller than 10μm (micrometers).
Which ones are the most dangerous?
Generally, the most dangerous particulate matter is human-made such as tobacco smoke, vehicular traffic, combustion processes , etc.
Why are they extremely harmful?
Depending on their size, they can penetrate to different depths in the lungs. For this reason, PM2.5 and PM1 are generally the most dangerous compounds because they settle deeper, accumulating over time.
GREEN HABITAT'S SOLUTION.
In this project, our patented systems, demonstrated by comparing the concentration of particulate matter in commercial buildings with and without green walls, that it is possible to appreciate the positive effect brought by the
Green Habitat walls
in as little as four days after planting.
PM10 decreased by 26% in rooms with green walls while PM2.5 and PM1 decreased by 69% and 65%, respectively.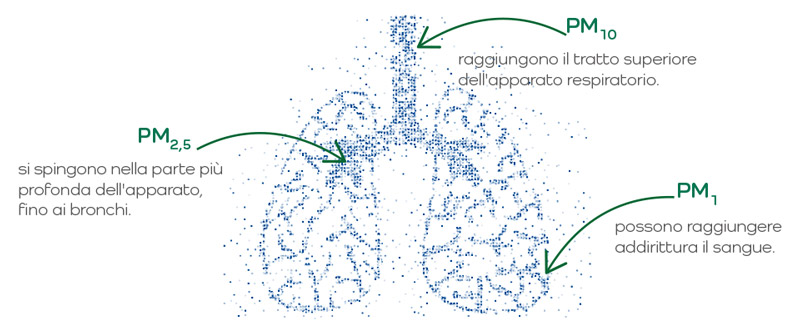 Reduction of atmospheric particulate matter.
Compared to ordinary city trees, a green wall for the same benefits requires significantly less area and allows us to take advantage of unused and usually decaying walls, thus avoiding taking up space that is increasingly essential to our needs.
In fact, a green facade, by housing thousands of plants, allows tons of Co2 to be absorbed and as much oxygen to be produced.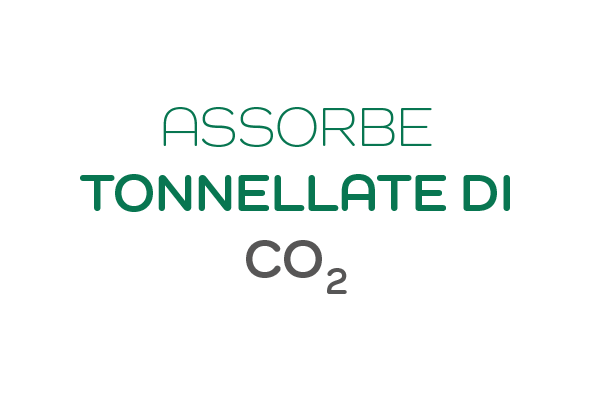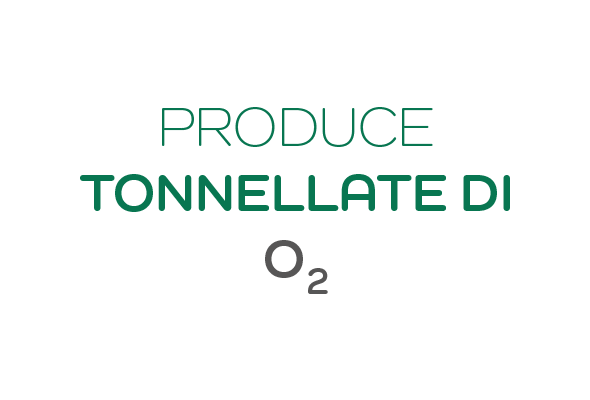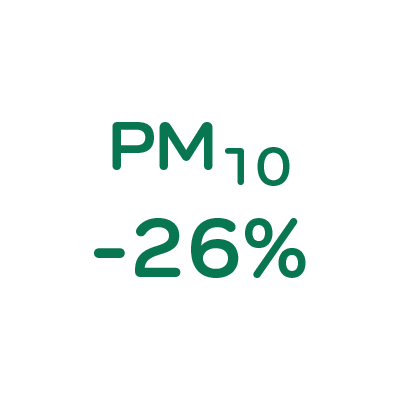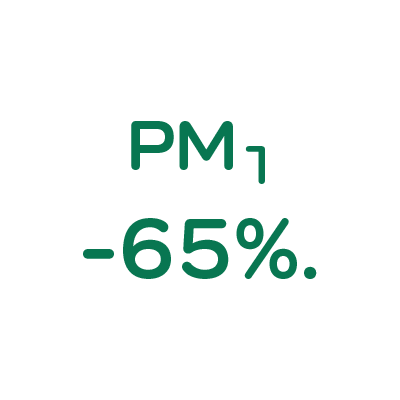 Noise pollution has been a major problem in European cities for decades now due to increased vehicular traffic and people's activities, resulting in noisy and uncomfortable indoor environments in offices and commercial spaces.
GREEN HABITAT'S SOLUTION.

Sound insulation
is particularly effective toward low frequencies 50-1000Hz, generated, for example, by vehicular traffic from outside. Therefore, the structures tested can have a fair amount of benefit in reducing sick building syndrome by improving the overall health condition of human beings.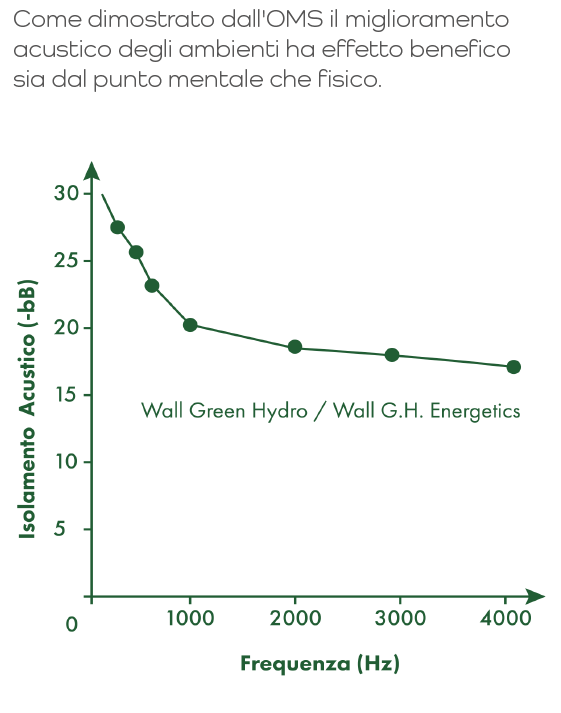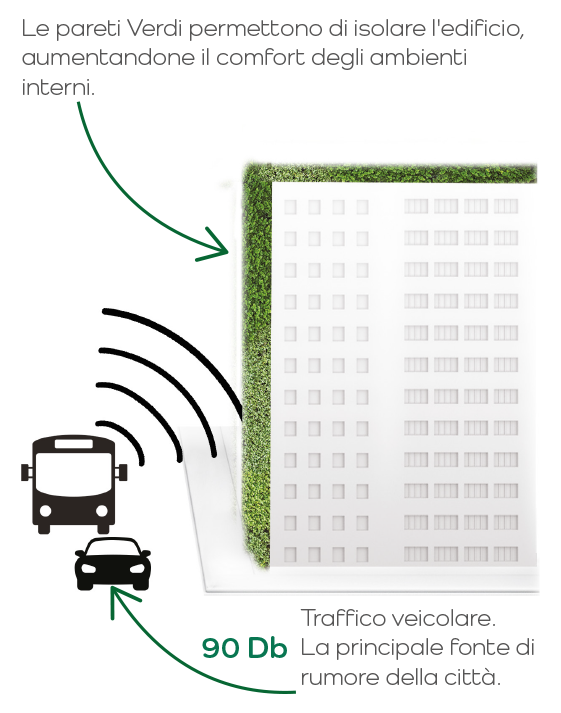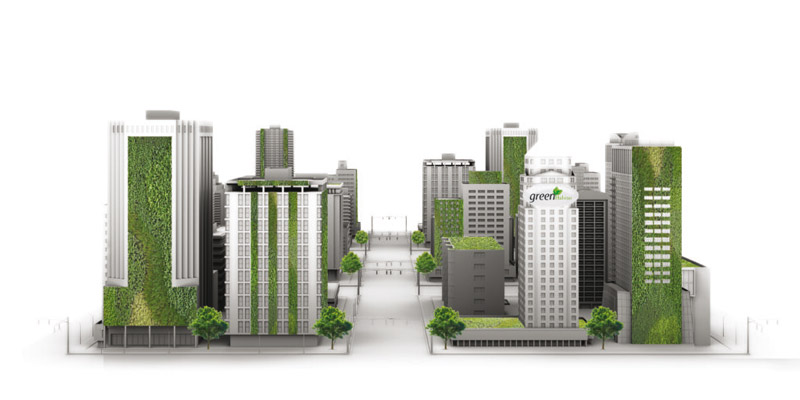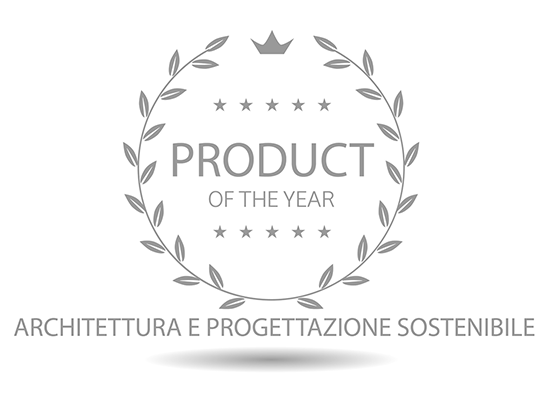 Wall Green Hydro, placed in front of the masonry, helps improve its thermal performance.
Calculations obtained by the Italian Accreditation Body through the EN ISO 10211:2017 standards showed excellent results, calculated with reference to the Wall Green Habitat Hydro and Wall G.H. Energetics systems alone, without considering plants, substrates and water systems that greatly improve energy efficiency.
Research and development.
Formaldehyde, what is it:
Formaldehyde is a carcinogenic chemical widely found in space cleaning products, furniture and even paints. Those exposed to its contact have over time developed certain respiratory diseases such as asthma, cough or bronchitis. As the graph shows, Green Habitat walls remove formaldehyde from the environment, generating a healthier and more comfortable environment.
Humidity regulation.
Excessive humidity creates an ideal climate for the proliferation of bacteria; if the indoor climate is too dry, it dries out the mucous membranes of the respiratory tract and exposes us to allergies. Vertical gardens help to ensure a climate with moisture content between 40 and 60 percent, which is optimal for our health.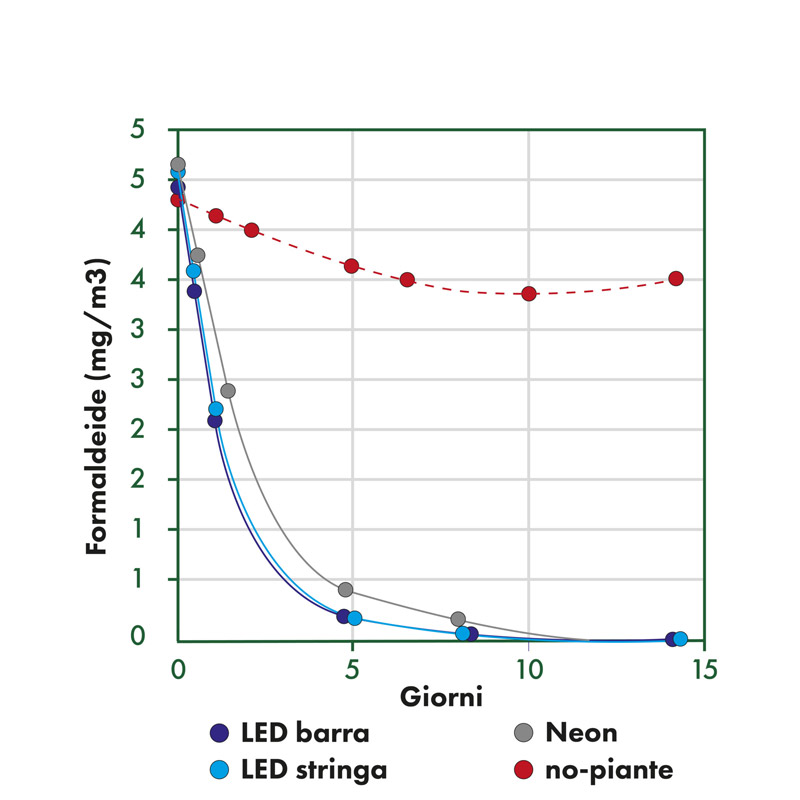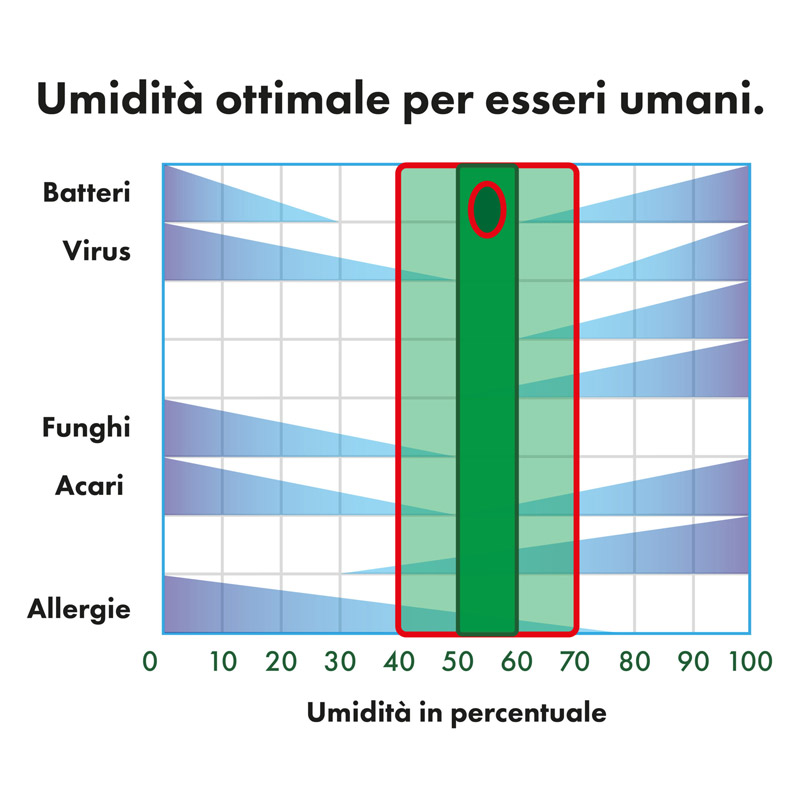 Noise pollution in the workplace causes poor concentration, increased stress and discomfort. Green Habitat's products are designed to absorb sound naturally, making the environment more comfortable.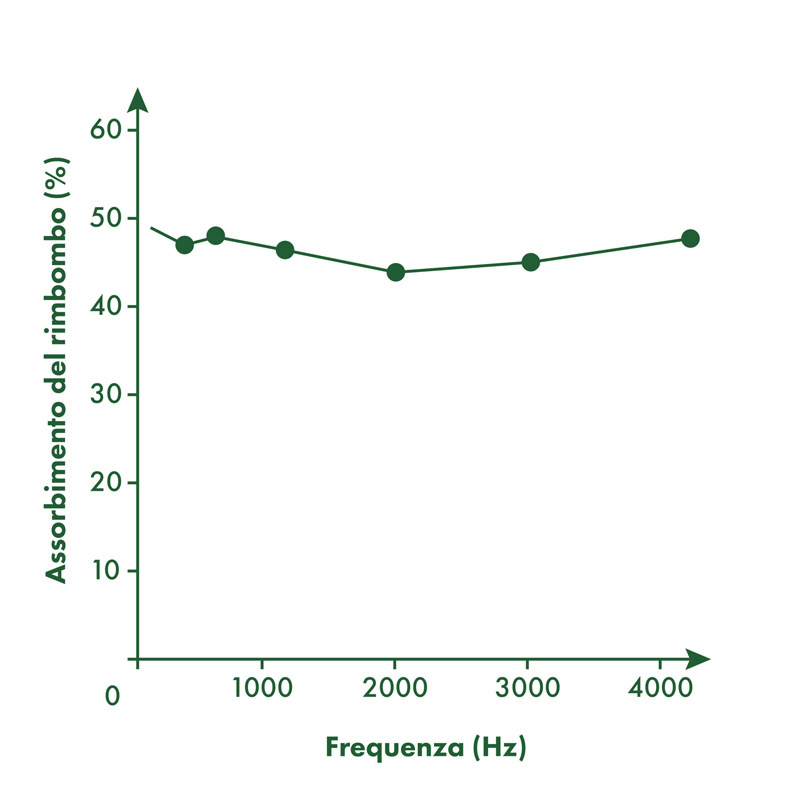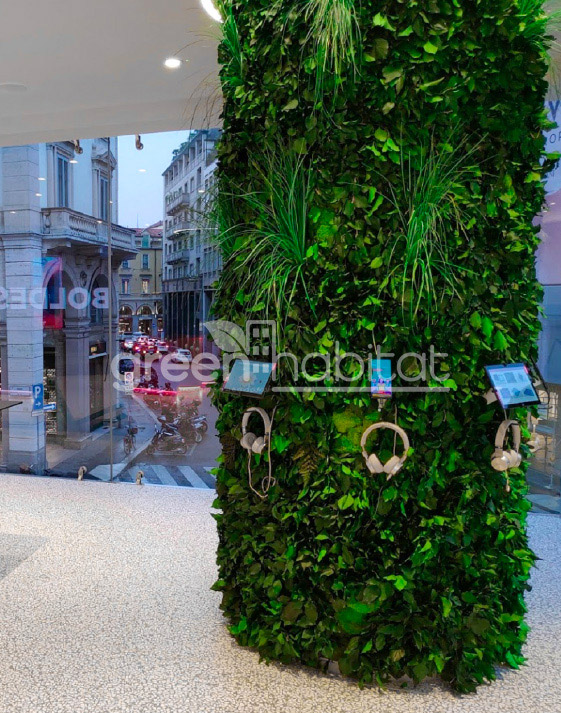 Less stress, less absenteeism.
According to Forbes, the data speak for themselves.
According to Forbes, biophilic green furniture is the breakthrough in workplace design. Plants can absorb and neutralize pollutants from furniture items and electromagnetic waves released by electronic devices, with obvious health benefits for employees. The consequences in terms of absenteeism are impressive: a green office could reduce workers' sick days by 20 percent, according to a study conducted by Wageningen Environmental Research.
Stress reduction.
According to the University of technology in Sydney, biophilic design helps to significantly reduce stress in work environments.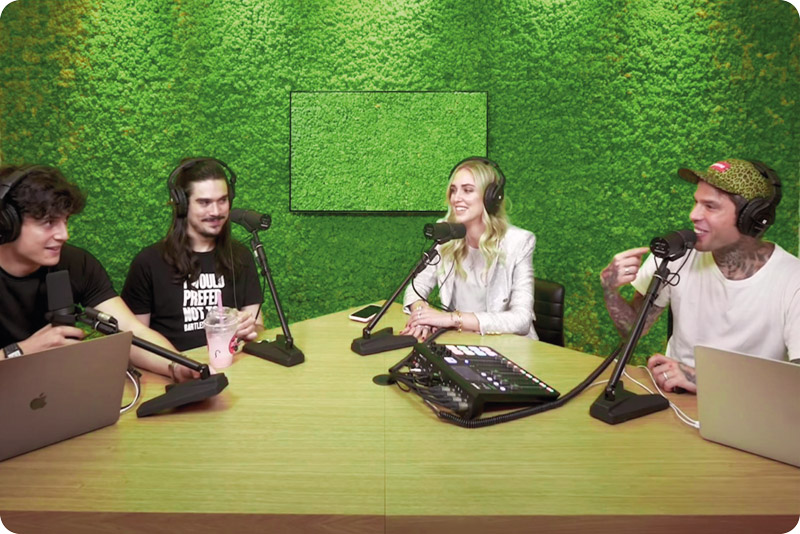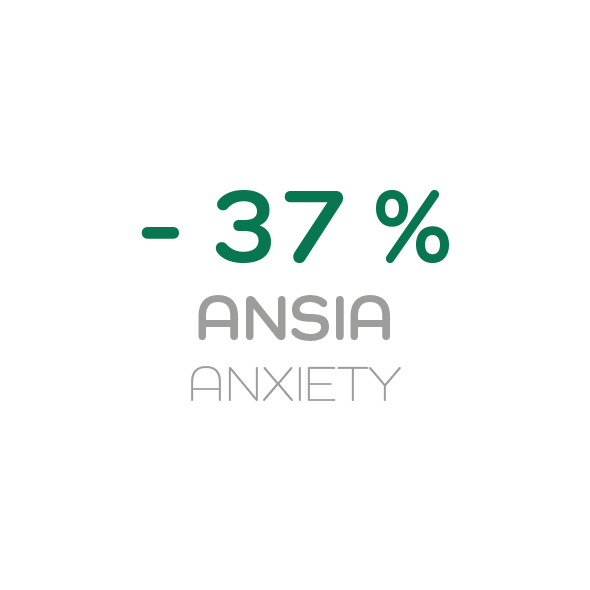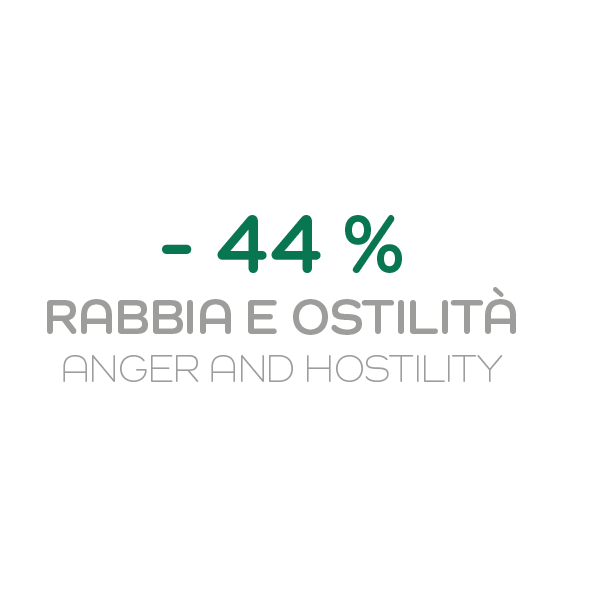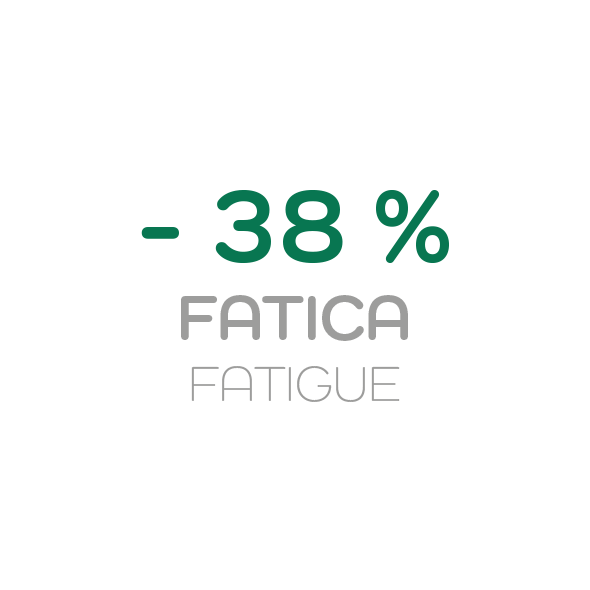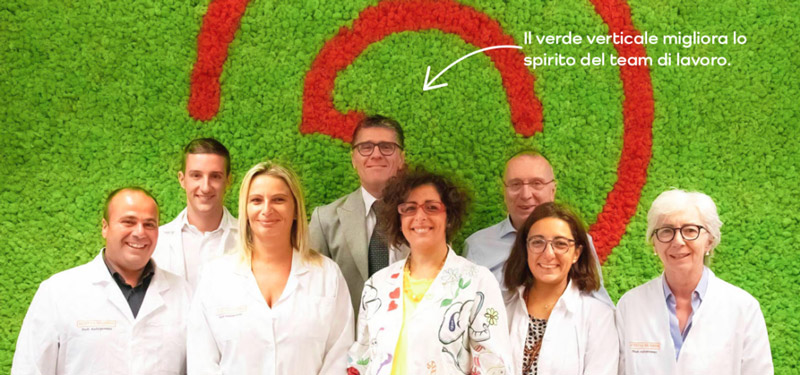 Marketing and biophillic design.
SALES GROW, RETAIL BENEFITS.
The use of biophilic elements does more than create positive emotions, it helps increase overall sales . When customers shop in a space that uses biophilic elements, positive emotions increase the perceived value of the product. Several studies report increased sales of up to 40 percent in stores with biophilic furniture.
GREEN HABITAT'S SOLUTION.
Green Habitat has developed awide range of natural products to contour display areas and apply to existing furnishings without any need for predispositions, while also introducing green furnishing accessories such as paintings , planters and mobile and sound-absorbing partitions.